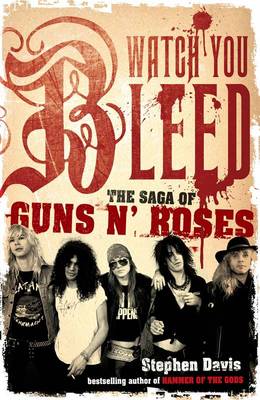 Acaba de salir un libro nuevo de Guns N' Roses, tiene muy buena pinta y habla de los nuevos Guns y de los viejos, con algunas fotos de ambos. Parece un libro realizado a partir de diversas (y muchas) fuentes fiables. Es curioso, porque esos libros suelen tener un precio estandar de 10 Libras o menos a pesar del precio recomendado que suele ser superior. En este caso, este vale 12 L aunque su precio original es de sobre 20.
El libro está escrito por Stephen Davis y esto es lo que presenta wikipedia sobre el libro:
Watch You Bleed: The Saga of Guns N' Roses was written by Stephen Davis, published by Gotham Press and released August 26, 2008. This is the story of the last rock supergroup - from their drug-fueled blast-off in the 1980s to the turbulent life of legendary singer Axl Rose and his fifteen-year multimillion-dollar effort to make the perfect hard-rock album.
Watch You Bleed documents the improbable story of W. Axl Rose, the biggest rock star of his generation. Taken from an abusive father in his infancy, he was raised as "Bill Bailey" in a strictly religious Indiana household by a stepfather who beat him for playing Led Zeppelin songs on the family piano. After quitting high school, and on the run from the police in his hometown, Axl arrived in Los Angeles in the midst of the street battles for supremacy among the top music genres of the eighties - post-punk, thrash, hair metal, and glam. The book also charts the backgrounds of every band member, especially Slash, a Hollywood street kid whose designer mother dated David Bowie.
Davis captures the birth of Guns' raw power, which - despite rape charges, drug-induced rampages, and a general appetite for destruction - launched the band into the pantheon of rock gods such as Led Zeppelin and the Rolling Stones. Davis details Axl's unrelenting quest to release the long-awaited, mystery shrouded Chinese Democracy album, as well as the further adventures of some of the Gunners under the banner of the hard-rocking band Velvet Revolver.